Loading dose:
142
studies at Vitamin D Life

If a person is, or is suspected to be, very vitamin D deficient a loading dose is typically given
Loading = repletion = quick replacement (previously known as Stoss)
Loading doses range in size from 100,000 IU to 1,000,000 IU of Vitamin D3
The size of the loading dose is a function of body weight - see below
Unfortunately, some doctors persist in using Vitamin D2 instead of D3
Loading may be done as quickly as a single day, to as slowly as 3 months.
It appears that spreading the loading dose over 4-20 days is a good compromise
Loading is typically oral, but sometimes by injection (I.M,)
The loading dose persists in the body for about 3 months
The loading dose should be followed up with continuing maintenance
Unfortunately, many doctors fail to follow-up with the maintenance dosing.
As about 1 in 300 people have some form of mild allergic reaction to vitamin D supplements,
it appears prudent to test with a small amount of vitamin D before giving a loading dose
The causes of a mild allergic reaction appear to be: (in order of occurance)
1) lack of magnesium - which can be easily added
2) allergy to capsule contents - oil, additives (powder does not appear to cause any reaction)
3) allergy to the tiny amount of D3 itself (allergy to wool) ( alternate: D3 made from plants )
---
Cholecalciferol loading dose guideline for vitamin D-deficient adults.
Eur J Endocrinol. 2010 Apr;162(4):805-11. Epub 2010 Feb 5.
CONCLUSION: The cholecalciferol loading dose required to reach the serum 25-OHD(3) target level of 75 nmol/l can be calculated as follows:
dose (IU)=40x(75 - serum 25-OHD(3))xbody weight.
CLICK HERE for PDF of the study, equation, and charts
To use ng and pound multipy by 35 instead of 40
Dose to get 30 ng (in ng and pounds) = 35 x (30 - serum 25-OHD(3)) x body weight.
Typically spread over over 8 weeks
A very commonly prescribed loading dose in the US is 50,000 IU per week for 8 weeks, for a total of 400,000 IU
Example uses of the equation to achieve 30 ng (on average)
Dose
starting
level
weight
140,000 IU
10 ng
200 lb
70,000 IU
20 ng
200 lb
105,000 IU
10 ng
150 lb

Dose to get 50 ng (in ng and pounds) = 35 x (50 - serum 25-OHD(3)) x body weight.
Example uses of the equation to achieve 50 ng (on average)
Dose
starting
level
weight
280,000 IU
10 ng
200 lb
210,000 IU
20 ng
200 lb
There is a HUGE variation in response between individuals for the average (equation)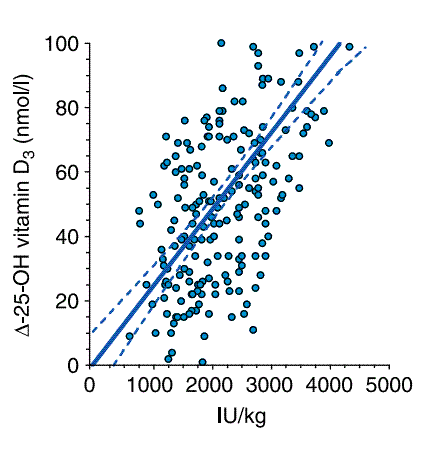 Response to 100,000 IU, 150,000 IU, and 200,000 IU vary a lot between individuals


CLICK HERE for PDF
---
3 day response time to a loading dose
---
See also at Vitamin D Life