RLS has been treated by Vitamin D, Magnesium and Iron
---
Vitamin D Life Summary
Unknown amount of vitamin D was given to 12 adults with Restless Legs Syndrome
RLS scores decreased dramatically from 26 down to 10
RLS Scoring is attached at the bottom on this page: 40 = worst to 0 = none
Vitamin D levels went from 9 ng/mL to 25 ng/mL (trial lasted until each patient got > 20 ng: 3-8 months)
Some received vitamin D orally, others by injection.
Dosing was 8,000 IU liquid vitamin D/week OR 200,000 IU injection/ month
Publisher wants $45 for the study
RLS in Vitamin D Life
People with RLS often benefit from Magnesium and/or Iron (see bottom of this page)
Vitamin D Life expects RLS might be eliminated with if higher vitamin D levels were achieved in combination with Magnesium/Iron
See also Vitamin D Council
Cartoon from the web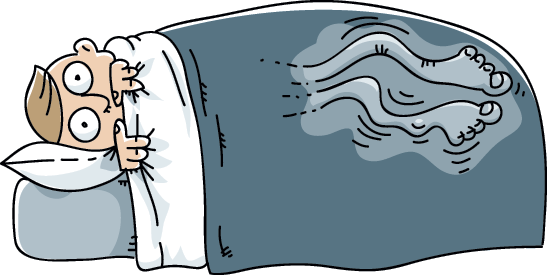 RLS 3 X more likely if < 20 ng/mL of Vitamin D (8X more if was also a black teacher) – March 2018
The Association Between Vitamin D Level and Restless Legs Syndrome: A Population-Based Case-Control Study.
J Clin Sleep Med. 2018 Mar 30. pii: jc-17-00496. [Epub ahead of print]
Wali S, Alsafadi S, Abaalkhail B, Ramadan I, Abulhamail B, Kousa M, Alshamrani R, Faruqui H, Faruqui A, Alama M, Hamed M.
STUDY OBJECTIVES: The pathophysiology of restless legs syndrome (RLS) may be related to abnormalities in central dopamine pathways. Vitamin D may play a role in the pathophysiology of RLS by modulating the dopaminergic system. The aim of our study is to examine the possible link between RLS and vitamin D deficiency.
METHODS: The total number of subjects enrolled was 201, including 78 patients with RLS based on the International RLS Study Group (IRLSSG) diagnostic criteria and 123 controls. Serum 25-hydroxy vitamin D levels were measured in both groups. RLS severity was assessed in all cases using the IRLSSG symptom severity rating scale.
RESULTS: Fifty-nine patients with RLS (75.6%) and 52 controls (42.3%) had a diagnosis of vitamin D deficiency, P< .001. The odds ratio (OR) of the development of RLS was 4.24 for those with a vitamin D level < 50 nmol/L compared to those with a vitamin D level ≥ 50 nmol/L (P< .001, 95% confidence interval CI 2.3-7.9).
After adjusting for all other significant factors in the multivariate logistic model, vitamin D was significantly associated with RLS (OR 3.1, P< .002, 95% CI 1.51-6.38).
Moreover, a dark or black skin color (OR 3.4, P< .001, 95% CI 1.5-6.3) and working as a teacher (OR 8.8, P< .001, 95% CI 3.4-23.5) were also independently significantly associated with RLS.
CONCLUSIONS: Our study identified an association between vitamin D deficiency and RLS. Consequently, vitamin D deficiency should be considered in the management of RLS. However, further studies are needed to evaluate the causality relationship between vitamin D level and RLS.
PMID: 29609719
---
RLS score dropped from 26 to 10 after Vitamin D levels were raised to just 25 nanograms - 2014
The effect of vitamin D supplements on the severity of restless legs syndrome
Sleep Breath. 2014 Aug 23. [Epub ahead of print] https://doi.org/10.1007/s11325-014-1049-y
Wali S1, Shukr A, Boudal A, Alsaiari A, Krayem A.
1Sleep Medicine and Research Center, King Abdulaziz University, Jeddah, Saudi Arabia, sowali at kau.edu.sa.
PURPOSE:
Clinical observation hinted improved symptoms of restless legs syndrome (RLS) after vitamin D supplements. Hence, the aim of this study is to evaluate the effect of vitamin D supplementation on the severity of RLS symptoms.
METHODS:
Twelve adult subjects diagnosed with primary RLS and vitamin D deficiency were recruited. Patients with secondary RLS were excluded from this study. The complete cell count; serum levels of ferritin, iron, glycated hemoglobin, and vitamin D3 (25 (OH) vitamin D); and renal and bone profiles of the patients were assayed. Patients with vitamin D deficiency (<50 nmol/l) were treated with vitamin D3 supplements (high oral dose or intramuscular injection). The severity scores of RLS were reassessed after the vitamin D3 level was corrected to >50 nmol/l and compared with those before the administration of the supplements.
RESULTS:
The median pretreatment vitamin D level was 21.7 nmol/l (13.45-57.4), which improved to 61.8 nmol/l (42.58-95.9) (P = 0.002) with the treatment. The median RLS severity score improved significantly from 26 (15-35) at baseline to 10 (0-27) after correction of the vitamin D levels (P = 0.002).
CONCLUSION:
This study indicates that vitamin D supplementation improves the severity of RLS symptoms and advocates that vitamin D deficiency is conceivably associated with RLS.
PMID: 25148866
Publisher wants $40 for the PDF
Sci-Hub.tw has a free copy - March 2018
References
Ohayon MM, O'Hara R, Vitiello MV (2012) Epidemiology of restless legs syndrome: a synthesis of the literature. Sleep Med Rev 16:283–295 CrossRef
Phillips B, Young T, Finn L, Asher K, Hening WA, Purvis C (2000) Epidemiology of restless legs symptoms in adults. Arch Intern Med 160:2137–2141 CrossRef
Berger K, Luedemann J, Trenkwalder C, John U, Kessler C (2004) Sex and the risk of restless legs syndrome in the general population. Arch Intern Med 164:196 CrossRef
Ibia M, Sawadab H, Nakanishia M, Kumea T, Katsukia H, Kanekoc S, Shimohamab S, Akaikea A (2001) Protective effects of 1,25-(OH)2D3 against the neurotoxicity of glutamate and reactive oxygen species in mesencephalic culture. Neuropharmacology 40:761–771 CrossRef
Prakash S, Bhanvadia RJ, Shah ND (2010) Restless legs syndrome with carbamazepine-induced osteomalacia: causal or casual association. Gen Hosp Psychiatry 32(2):228
Allen RP, Picchietti D, Hening WA, Trenkwalder C, Walters AS, Montplaisi J (2003) Restless legs syndrome: diagnostic criteria, special considerations, and epidemiology. A report from the restless legs syndrome diagnosis and epidemiology workshop at the National Institutes of Health. Sleep Med 4(2):101–119 CrossRef
Walters AS, LeBrocq C, Dhar A, Hening W, Rosen R, Allen RP, Trenkwalder C, International Restless Legs Syndrome Study Group (2003) Validation of the International Restless Legs Syndrome Study Group rating scale for restless legs syndrome. Sleep Med 4:121–132 CrossRef
Abetz L, Arbuckle R, Allen RP, Garcia-Borreguero D, Hening W, Walters AS, Mavraki E, Kirsch JM (2006) The reliability, validity and responsiveness of the International Restless Legs Syndrome Study Group rating scale and subscales in a clinical-trial setting. Sleep Med 7(4):340–349 CrossRef
Alsuwadia AO, Farag YM, Al Sayyari AA, Mousa DH, Alhejaili FF, Al-Harbi AS, Housawi AA, Mittal BV, Singh AK (2013) Prevalence of vitamin D deficiency in Saudi adults. Saudi Med J 34(8):814–818
BaHammam A, Al-shahrani K, Al-zahrani S, Al-shammari A, Al-amri N, Sharif M (2011) The prevalence of restless legs syndrome in adult Saudis attending primary health care. Gen Hosp Psychiatry 33(2):102–106 CrossRef
Balaban H, Yıldız ÖK, Çil G, Şentürk İA, Erselcan T, Bolayır E, Topaktaş S (2012) Serum 25- hydroxyvitamin D levels in restless legs syndrome patients. Sleep Med 13(7):953–957 CrossRef
Allen RP, Earley CJ (2007) The role of iron in restless legs syndrome. MovDisord 22(18):440–448
Zucconi M, Manconi M (2008) Sleep and quality of life in restless legs syndrome. In: Verster JC, Pandi-Perumal SR, Streiner D (eds) Sleep and quality of life in clinical medicine. Humana Press, Totowa, NJ
Manconi M, Ferri R, Zucconi M, Clemens S, Giarolli L, Bottasini V, Ferini-Strambi L (2011) Preferential D2 or preferential D3 dopamine agonists in restless legs syndrome. Neurology 77(2):110–117 CrossRef
Walters AS, Rye DB (2009) Review of the relationship of restless legs syndrome and periodic limb movements in sleep to hypertension, heart disease, and stroke. Sleep 32(5):589–597
Meguro S, Tomita M, Katsuki T, Kato K, Oh H, Ainai A, Ito R, Takeda S, Kawai T, Atsumi Y, Itoh H, Hasegawa H (2011) Plasma 25- hydroxyvitamin D is independently associated with hemoglobin concentration in male subjects with type 2 diabetes mellitus. Int J Endocrinol 362981:5. doi:10.1155/2011
Abou-Raya S, Helmii M, Abou-Raya A (2009) Bone and mineral metabolism in older adults with Parkinson's disease. Age Ageing 38(6):675–680 CrossRef
Evatt ML, Delong MR, Khazai N, Rosen A, Triche S, Tangpricha V (2008) Prevalence of vitamin d insufficiency in patients with Parkinson disease and Alzheimer disease. Arch Neurol 65(10):1348–1352
Cui X, Pelekanos M, Liu PY, Burne TH, McGrath JJ, Eyles DW (2013) The vitamin D receptor in dopamine neurons; its presence in human substantia nigra and its ontogenesis in rat midbrain. Neuroscience 236:77–87 CrossRef
Newmark HL, Newmark J (2007) Vitamin D and Parkinson's disease—a hypothesis. Mov Disord 22(4):461–468 CrossRef
Danielle ED, Lydia MM, Natalie LC, Jeanne EM, Mahlon RD, Kurt DP, Jonathan AD, Tangpricha V, Gary WM, Marian LE (2012) 25-Hydroxyvitamin D depletion does not exacerbate MPTP-induced dopamine neuron damage in mice. PLoS ONE 7(7):e39227 CrossRef
Garcia-Borreguero D, Kohnen R, Boothby L, Tzonova D, Larrosa O, Dunkl E (2013) Validation of the multiple suggested immobilization test: a test for the assessment of severity of restless legs syndrome (Willis-Ekbom disease). Sleep 36(7):1101–1109
---
Restless Legs Syndrome 5X more likely if vitamin D deficient - May 2014
Possible association between vitamin D deficiency and restless legs syndrome
Neuropsychiatr Dis Treat. 2014 May 21;10:953-8. doi: 10.2147/NDT.S63599. eCollection 2014.
Oran M1, Unsal C2, Albayrak Y2, Tulubas F3, Oguz K4, Avci O1, Turgut N4, Alp R4, Gurel A3.
BACKGROUND AND AIM:
Restless legs syndrome (RLS) is a distressing sleep disorder that occurs worldwide. Although there have been recent developments in understanding the pathophysiology of RLS, the exact mechanism of the disease has not been well elucidated. An increased prevalence of neurologic and psychiatric diseases involving dopaminergic dysfunction in vitamin D-deficient patients led us to hypothesize that vitamin D deficiency might result in dopaminergic dysfunction and consequently, the development of RLS (in which dopaminergic dysfunction plays a pivotal role). Thus, the aim of this study was to evaluate the relationship between vitamin D deficiency and RLS.
METHODS:
One hundred and fifty-five consecutive patients, 18-65 years of age, who were admitted to the Department of Internal Medicine with musculoskeletal symptoms and who subsequently underwent neurological and electromyography (EMG) examination by the same senior neurologist, were included in this study. The patients were divided into two groups according to serum 25-hydroxyvitamin D (25(OH)D) (a vitamin D metabolite used as a measure of vitamin D status) level: 36 patients with serum 25(OH)D levels ≥20 ng/mL comprised the normal vitamin D group, and 119 patients with serum 25(OH)D levels <20 ng/mL comprised the vitamin D deficiency group. The two groups were compared for the presence of RLS and associated factors.
RESULTS:
The two groups were similar in terms of mean age, sex, mean body mass index (BMI), and serum levels of calcium, phosphate, alkaline phosphatase (ALP), and ferritin. The presence of RLS was significantly higher in the vitamin D deficiency group (χ (2)=12.87, P<0.001). Regression analysis showed vitamin D deficiency and serum 25(OH)D level to be significantly associated with the presence of RLS (odds ratio [OR] 5.085, P<0.001 and OR 1.047, P=0.006, respectively).
CONCLUSION:
The present study demonstrated a possible association between vitamin D deficiency and RLS. Given the dopaminergic effects of vitamin D, 25(OH)D depletion may lead to dopaminergic dysfunction and may have a place in the etiology of RLS. Prospective vitamin D treatment studies are needed to confirm this relationship and to evaluate the efficacy of vitamin D as a treatment for RLS patients.
PMID: 24899811
&nbspDownload the PDF from Vitamin D Life
---
See also RLS WikiPedia Aug 2014 (nothing about vitamin D)
Restless legs syndrome (RLS) also known as Willis-Ekbom disease (WED)[1] or Wittmaack-Ekbom syndrome, is a neurological disorder characterized by an irresistible urge to move one's body to stop uncomfortable or odd sensations.[2] It most commonly affects the legs, but can affect the arms, torso, head, and even phantom limbs.[3] Moving the affected body part modulates the sensations, providing temporary relief.
RLS sensations range from pain or an aching in the muscles, to "an itch you can't scratch", an unpleasant "tickle that won't stop", or even a "crawling" feeling. The sensations typically begin or intensify during quiet wakefulness, such as when relaxing, reading, studying, or trying to sleep.[4] Additionally, most individuals with RLS suffer from periodic limb movement disorder (limbs jerking during sleep), which is an objective physiologic marker of the disorder and is associated with sleep disruption.[5] It can be caused by low iron levels.[6]
RLS affects an estimated 2.5 to 15% of the American population .[6][60] A minority (around 2.7% of the population) experience daily or severe symptoms.
---
Magnesium reduced RLS - 1998
Magnesium therapy for periodic leg movements-related insomnia and restless legs syndrome: an open pilot study.
Sleep. 1998 Aug 1;21(5):501-5.
Hornyak M1, Voderholzer U, Hohagen F, Berger M, Riemann D.
Periodic limb movements during sleep (PLMS), with or without symptoms of a restless legs syndrome (RLS), may cause sleep disturbances. The pharmacologic treatments of choice are dopaminergic drugs. Their use, however, may be limited due to tolerance development or rebound phenomena. Anecdotal observations have shown that oral magnesium therapy may ameliorate symptoms in patients with moderate RLS. We report on an open clinical and polysomnographic study in 10 patients (mean age 57 +/- 9 years; 6 men, 4 women) suffering from insomnia related to PLMS (n = 4) or mild-to-moderate RLS (n = 6). Magnesium was administered orally at a dose of 12.4 mmol in the evening over a period of 4-6 weeks. Following magnesium treatment, PLMS associated with arousals (PLMS-A) decreased significantly (17 +/- 7 vs 7 +/- 7 events per hour of total sleep time, p < 0.05). PLMS without arousal were also moderately reduced (PLMS per hour of total sleep time 33 +/- 16 vs 21 +/- 23, p = 0.07). Sleep efficiency improved from 75 +/- 12% to 85 +/- 8% (p < 0.01).
In the group of patients estimating their sleep and/or symptoms of RLS as improved after therapy (n = 7), the effects of magnesium on PLMS and PLMS-A were even more pronounced. Our study indicates that magnesium treatment may be a useful alternative therapy in patients with mild or moderate RLS-or PLMS-related insomnia. Further investigations regarding the role of magnesium in the pathophysiology of RLS and placebo-controlled studies need to be performed.
PMID: 9703590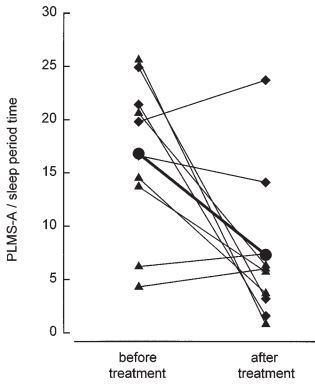 &nbspDownload the PDF from Vitamin D Life
---
See also web - RLS and Vitamin D
---
See also web - RLS and Magnesium
See also Vitamin D Life - Magnesium