FACT: Vitamins, such as vitamin D, are needed to reduce hair loss
FACT: Chemotheraphy reduces vitamin D
OBSERVATION: Vitamin D reduces hair loss due to chemotherapy: reasons include:
Vitamin D can reduce the amount of chemo needed, so less hair killed off
Less chemo results in less reduction in Vitamin D
Vitamin D can keep the hair healthy.
Google search "hair loss" chemotherapy "vitamin d" 3,60,000 hits Nov2019
Great hair regrowth June 2012: Henry Lahore, admin of Vitamin D Life
My having a high level of vitamin D for over 2 years helped reduce many aches and pains, but did not stop or even slow my hair loss (age 66)
Even taking all of the bone/vitamin D cofactors did not stop hair loss (Magnesium, Silicon, Boron, etc)
However, 2 months ago I decided to add scalp massage, which had really helped my father re-populate his scalp
(he was a carpenter who worked outdoors most of his life, probably getting plenty of vitamin D)
Nightly 3 minute scalp massage (to increase blood circulation) resulted in detectable hair re-growth in 2 weeks and excellent regrowth in 6 weeks.
I leave the scalp massager plugged in next to the bed so that it takes no time to setup for the nightly massage.
Observation: Vitamin D3 + cofactors + massage has worked extremely well for me.
Perhaps just massage would have helped, I do not know.
Conclusion for others: None: I have no idea if the combination will work for you.



There are a huge number of scalp massagers sold on Amazon - both mechanical and electric
I happened to purchase an electric massager made by Wahl for $22, which has a hair attachment (not shown)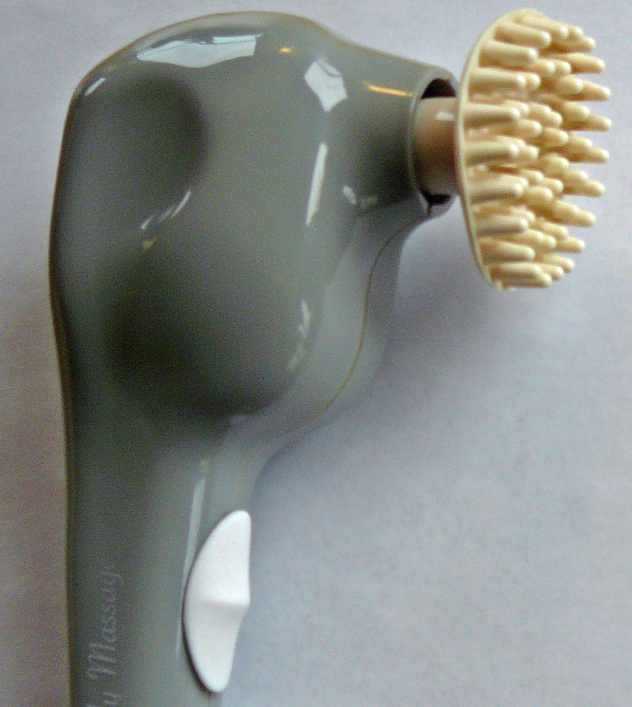 - - - - - - - - - - - - - - - - - - - - - - - - - - - -
Clipped from above on chemotherapy-induced hair loss
"...Limited studies have been done in humans to elaborate the role of vitamin D in the hair cycle. A potential application for vitamin D is in chemotherapy-induced hair loss. Topical calcitriol has been shown to protect against chemotherapy-induced alopecia caused by paclitaxel and cyclophosphamide. However, topical calcitriol failed to protect against chemotherapy-induced hair loss caused by a combination of 5-fluorouracil, doxorubicin, and cyclophosphamide and a combination of cyclophosphamide, methotrexate, and 5-fluorouracil 36, 37."
The Hair Cycle and Vitamin D Receptor - 2011
Archives of Biochemistry and Biophysics, doi:10.1016/j.abb.2011.10.002
Marie B. Demay , Endocrine Unit, Massachusetts General Hospital and Harvard Medical School, 50 Blossom St, Thier 11, Boston, MA 02114
The Vitamin D receptor (VDR) plays a critical role in epidermal homeostasis. The ligand-dependent actions of the VDR attenuate epidermal keratinocyte proliferation and promote keratinocyte differentiation. Calcium can compensate for the absence of the VDR in maintaining a normal program of epidermal keratinocyte differentiation both in vitro and in vivo. In contrast, the effects of VDR ablation on the hair follicle cannot be prevented by maintaining normal calcium levels and are independent of 1,25-dihydroxyvitamin D. These actions of the VDR are critical in the keratinocyte stem cell population that resides in the bulge region of the hair follicle. Absence of a functional VDR leads to a self-renewal and lineage progression defect in this population of stem cells, resulting in the absence of post-morphogenic hair cycles. The molecular partners and downstream target genes of the VDR in this unique population of cells have not yet been identified.
--
Skin Pharmacol Physiol. 2013;26(2):101-7. doi: 10.1159/000346698. Epub 2013 Feb 20.
Rasheed H1, Mahgoub D, Hegazy R, El-Komy M, Abdel Hay R, Hamid MA, Hamdy E.
1Department of Dermatology, Faculty of Medicine, Cairo University, Cairo, Egypt.
AIM: Evaluation of serum ferritin and vitamin D levels in females with chronic telogen effluvium (TE) or female pattern hair loss (FPHL), in order to validate their role in these common hair loss diseases.
METHODS: Eighty females (18 to 45 years old) with hair loss, in the form of TE or FPHL, and 40 age-matched females with no hair loss were included in the study. Diagnosis was based upon clinical examination as well as trichogram and dermoscopy. Serum ferritin and vitamin D2 levels were determined for each participant.
RESULTS: Serum ferritin levels in the TE (14.7 ± 22.1 μg/l) and FPHL (23.9 ± 38.5 μg/l) candidates were significantly lower than in controls (43.5 ± 20.4 μg/l). Serum vitamin D2 levels in females with
TE (28.8 ± 10.5 nmol/l) and
FPHL (29.1 ± 8.5 nmol/l) were significantly lower than in
controls (118.2 ± 68.1 nmol/l; p < 0.001).
These levels decreased with increased disease severity.
Serum ferritin cut-off values for TE and FPHL were 27.5 and 29.4 μg/l, respectively, and those for vitamin D were 40.9 and 67.9 nmol/l.
CONCLUSION: Low serum ferritin and vitamin D2 are associated with hair loss in females with TE and FPHL. Screening to establish these levels in cases of hair loss and supplementing with them when they are deficient may be beneficial in the treatment of disease.
---
Serum Vitamin D in patients with alopecia areata Sept 2016
Indian Dermatol Online J. 2016 Sep-Oct;7(5):371-377
Bakry OA1, El Farargy SM1, El Shafiee MK2, Soliman A1.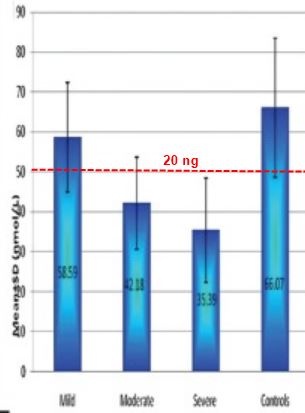 BACKGROUND: Alopecia areata (AA) is a common, recurrent, autoimmune hair disorder. It has been found that vitamin D deficiency is associated with many autoimmune diseases.
AIMS: The current study aimed to estimate serum levels of 25-hydroxy vitamin D in patients with AA.
MATERIALS AND METHODS: This case-control study included 60 patients with AA and 60 age, gender, skin phototype, and body mass index-matched healthy subjects as a control group. Levels of serum 25-hydroxy vitamin D were estimated using ELISA technique.
RESULTS: Serum 25-hydroxy vitamin D levels were significantly lower in AA cases when compared with healthy controls (P < 0.001). The least values were significantly associated with alopecia totalis/universalis compared with patchy AA (P < 0.001) and ophiasis (P = 0.04). Severe AA showed significantly the lowest vitamin D levels compared with cases with mild (P = 0.002) and moderate disease (P = 0.03). A significant inverse correlation was found between 25-hydroxy vitamin D levels and age of the patients (r = -0.38; P = 0.03). There was no significant association between serum 25-hydroxy vitamin D levels and gender, disease duration, disease recurrence, nail affection, duration of sun exposure/day, or positive family history of AA.
CONCLUSION: AA patients have lower levels of 25-hydroxy vitamin D than healthy subjects. More studies are required to assess the value of vitamin D supplementation in the treatment of that disease.
&nbspDownload the PDF from Vitamin D Life
---
Female pattern hair loss VitD: 13.5 ng vs controls(no FP hair loss): 17.2 ng -2016
Serum Vitamin D3 Level in Patients with Female Pattern Hair Loss.
Int J Trichology. 2016 Jul-Sep;8(3):116-20. doi: 10.4103/0974-7753.188965.
Banihashemi M1, Nahidi Y1, Meibodi NT2, Jarahi L3, Dolatkhah M4. IRAN
BACKGROUND: Female pattern hair loss (FPHL) is the most common cause of alopecia in women, characterized by diffuse nonscarring hair loss in frontal, central, and parietal areas of the scalp. Pathophysiology of FPHL is still not well known, and it is probably a multifactorial genetic trait. FPHL is also observed in women without increased androgen levels, which raises the likelihood of androgen-independent mechanisms and explains the lack of response to antiandrogen treatments in some patients. Vitamin D is a factor that has recently been considered in dealing with these patients. The purpose of this study was to evaluate the serum levels of Vitamin D in patients with FPHL and compare it with healthy controls.
METHODS: In this case-control study, 45 women with FPHL were evaluated as well as the same number of healthy women matched for age, hours spent under sunlight per day, and body mass index. Serum 25(OH) D3 level was measured using ELISA.
RESULTS: 60% of FPHL patients were in 15-30 years old age group with the mean standard deviation (SD) age of 29.11 (7.30) years. In the majority of patients (66.7%), severity of hair loss was Ludwig I. Mean (SD) serum Vitamin D3 level in patient and control group was 13.45 (8.40) and 17.16 (8.96), respectively. T-test showed a significant difference between the two groups in terms of Vitamin D3 serum levels (P = 0.04).
CONCLUSIONS: This study indicated the correlation between the incidence of FPHL and decreased serum levels of Vitamin D3. It is recommended to evaluate serum Vitamin D3 levels as well as other hormone assays in these patients.
PMID: 27625563 DOI: 10.4103/0974-7753.188965
&nbspDownload the PDF from Vitamin D Life
---
See also Vitamin D Life
See also web
See also web - graying hair is related to several vitamin D deficient diseases
This Is Why You Have Gray Hair Mercola, March 2016
Obesity, Thyroid disorders, anemia and vitiligo
"people with premature graying but no other identifiable risk factor were 4.4 times as likely to have osteopenia"
What gray hair says about your health Jan 2020

You may have a vitamin deficiency - Vitamin D, Vitamin B12
Your immune system may cause sudden graying
Gray is in your genes
You are (or were) a smoker
---
Low Level Laser Therapy helps hair growth
Comparative effectiveness of low-level laser therapy for adult androgenic alopecia: a system review and meta-analysis of randomized controlled trials
Low-level laser therapy for the treatment of androgenetic alopecia in Thai men and women: a 24-week, randomized, double-blind, sham device-controlled trial - Dec 2018 Red LEDs in cap 20 min per session, three times per week, over a 24-week period

I've got an LLLT, I will give it a try - Henry Lahore, Feb 2019
Note: one non-hair study found that LLLT increased Vitamin D Levels
---
My beard growth perhaps aided by Vitamin D and Zinc
Started growing my beard at age 70 (2016)
Facial hair and head hair growing well
Vitamin D and cofactors - which include Zinc
Google Search for Beard and Vitamin D ==> 200,000 web pages
Google Search for Beard and Zinc ==> 400,000 web pages
Short url = http://is.gd/HairVitD