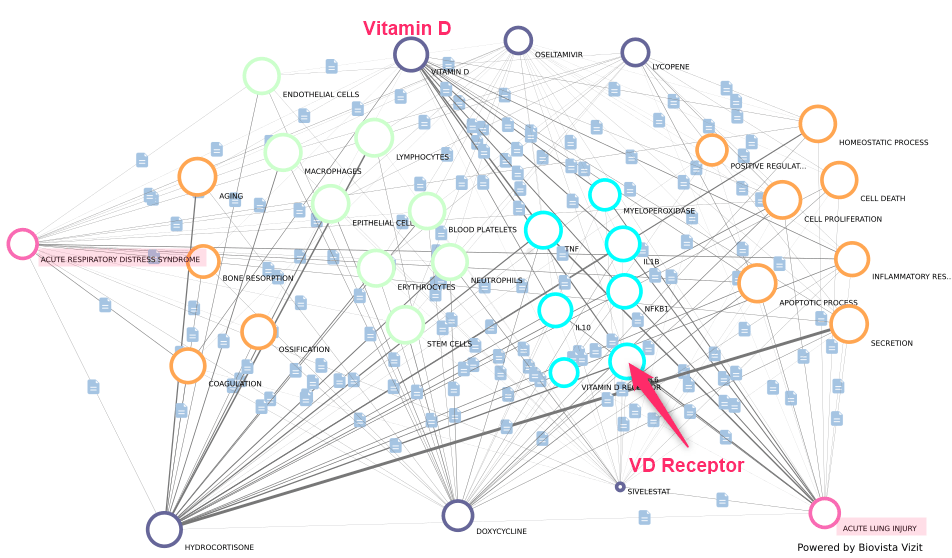 Click on image for on-line interaction
Note: Supplements can easily improve the Vitamin D Receptor
Study reported on in Medscape (found via Facebook) &nbspDownload PDF from Vitamin D Life
Biovista is doing the investigation
Project Prodigy AI at Biovista is focused on potential COVID-19 treatments
"... create visual networks of connections between different attack points related to COVID-19, including drugs, genes, pathways, cell types and more"
"Project Prodigy is working through more than 170,000 putative Drugs, Compounds and Nutritional Supplements, DIRECTLY or INDIRECTLY linked to the COVID-19 targets..."
They then are:

exploring the biology around the disease
generating hypotheses for possible treatment
sharing hypotheses with the community
assessing and refining these hypotheses

"Supporting scientific literature (PubMed articles) can be viewed by clicking on the

blue document icons.

"
So far, we hypothesize that two (2) drugs and (2) Nutritional Supplements that could be co-administered with the drugs seem to be suitable for further study and testing
---
Another repurposing study also considers Vitamin D for treatment - Sept 2020
Repurposing existing drugs for COVID-19: an endocrinology perspective
September 2020BMC Endocrine Disorders 20(149), DOI: 10.1186/s12902-020-00626-0
Cadegiani Flávio
&nbspDownload the PDF from Vitamin D Life


References include
155) Jakovac H. COVID-19 and vitamin D-Is there a link and an opportunity for intervention?. Am J Physiol Endocrinol Metab. 2020;318(5):E589. doi:https://doi.org/10.1152/ajpendo.00138.2020
157) Aygun H. Vitamin D can prevent COVID-19 infection-induced multiple organ damage [published online ahead of print, 2020 May 25]. Naunyn Schmiedebergs Arch Pharmacol. 2020;1-4.
159) Glinsky GV. Tripartite Combination of Candidate Pandemic Mitigation Agents: Vitamin D, Quercetin, and Estradiol Manifest Properties of Medicinal Agents for Targeted Mitigation of the COVID-19 Pandemic Defined by Genomics-Guided Tracing of SARS-CoV-2 Targets in Human Cells. -Biomedicines. 2020;8(5):E129. Published 2020 May 21.
161) Teymoori-Rad M, Shokri F, Salimi V, Marashi SM. The interplay between vitamin D and viral infections. Rev Med Virol. 2019;29(2):e2032.
---
See also Vitamin D Life
COVID-19 treated by Vitamin D - studies, reports, videos
Contents as of Nov 14:
36 trials, 3 trial results, 31 observations, 11 recommendations, 35 associations, 77 speculations, 26 videos
Top Vitamin D and COVID-19 recent updates
Click on chart for details
Search Google Scholar for COVID-19 Vitamin D 20,000 publications Oct 10, 2020
---
Many clinical trials are underway which are testing Vitamin D to fight COVID-19
---
Vitamin D Receptor items in Vitamin D Life
The risk of

44

diseases at least double with poor Vitamin D Receptor as of Oct 2019
Vitamin D Receptor activation can be increased by any of: Resveratrol, Omega-3, Magnesium, Zinc, Quercetin, non-daily Vit D, Curcumin, intense exercise, Ginger, Essential oils, etc

Note: The founder of Vitamin D Life uses 10 of the 12 known VDR activators
---
50 most-recently changed items in Virus Category in Vitamin D Life