Vitamin D Life
Items in categories Infant-Child AND Breathing AND Intervention:
Items in categories Seniors AND Breathing:
Items in categories Breathing and Virus:
---
Seasonal variations of respiratory viruses detected from children with respiratory tract infections in Riyadh, Saudi Arabia - 2018 &nbspDownload

---
Respiratory Syncytial Virus Infection and Bronchiolitis &nbspDownload
(RSV) accounts worldwide for more than 60% of acute respiratory infections in children and more than 80% in infants younger than 1 year and at the peak of viral season.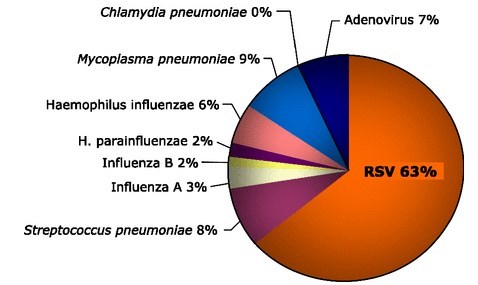 ---
RSV is also a problem for SENIORS in the winter Oct 2017

Most people contract the virus by age 2 and get it repeatedly throughout life.
For healthy people, RSV feels like a cold.

Its symptoms can be indistinguishable from the flu, except for the fact that RSV is less likely than the flu to cause fever.
---
" It is a major cause of lower respiratory tract infections and hospital visits during infancy and childhood."
"In temperate climates there is an annual epidemic during the winter months; in tropical climates, infection is most common during the rainy season."
"In the United States, 60% of infants are infected during their first HRSV season,[2] and nearly all children will have been infected with the virus by 2–3 years of age"
RSV is an enveloped virus, similar to Coronavirus
---
web
Serum 25-hydroxy Vitamin D Levels in Japanese Infants Younger Than 3-months Old With Respiratory Syncytial Virus Infection - July 2020
Jpn J Infect Dis. 2020 Jun 30. doi: 10.7883/yoken.JJID.2019.541
Hisashi Kawashima 1, Masahiro Kimura 1, Shinichiro Morichi 1, Shigeo Nishimata 1, Gaku Yamanaka 1, Yasuyo Kashiwagi 1
&nbspDownload the PDF from Vitamin D Life

Low levels of blood vitamin D have been reported in children who have frequent respiratory tract infections. We measured serum concentrations of 25-hydroxy (OH) vitamin D in Japanese infants less than 3-months old infected with respiratory syncytial virus (RSV). Serum levels of 25-OH vitamin D of the 10 infants, excluding those with underlying diseases, were between less than 4 to 29.8 ng/mL. In 8 out of 10 subjects (80.0%), serum 25-OH vitamin D levels were less than 20 ng/mL. There was no statistically significant association between levels of 25-OH vitamin D and age, duration of admission, respiratory severity score, white blood cell count, blood gas levels, and NT-proBNP levels. Levels of serum 25-OH vitamin D in children who required hospitalization owing to RSV infection were low, indicating deficiency. These results suggested that vitamin D deficiency affects the susceptibility to RSV infection, but not the severity of the RSV respiratory infection.