Endometriosis is associated with low vitamin D – 67 year literature review – Oct 2013
Vitamin D in endometriosis: A causative or confounding factor?
Metabolism, October 2013
Lamia Sayegh a, Ghada El-Hajj Fuleihan b, Anwar H. Nassara, an21 at aub.edu.lb
a Department of Obstetrics and Gynecology, American University of Beirut Medical Center, Beirut, Lebanon
b Department of Internal Medicine, Calcium Metabolism and Osteoporosis Program, WHO Collaborating Center for Metabolic Bone Disorders, Division of Endocrinology, American University of Beirut Medical Center, Beirut, Lebanon
Objective: The aim of this paper is to review the evidence from studies that evaluated the relationship between vitamin D and endometriosis.
Design: Comprehensive review.
Materials and Methods" Systematic literature search in Medline for relevant publications from 1946 until June 2013.
Results: Endometriosis risk may be influenced by dietary vitamin D intake and plasma hydroxyvitamin D concentration. Vitamin D receptor and vitamin D metabolizing enzymes, 24-hydroxylase and 1-α hydroxylase, are found in the normal cycling endometrium and also in the eutopic and ectopic endometrium of women with endometriosis. The endometrium is a target of 1, 25 dihydroxyvitamin D actions through regulation of specific genes and via immunomodulation. The endometrium in endometriosis expresses dysregulation of some vitamin D enzymes and receptors. If vitamin D and its metabolites are implicated in endometriosis-associated infertility, it is likely through interference with HOXA10 gene expression. The Gc2 phenotype of vitamin D binding protein is prevalent in women with endometriosis and may be implicated in its pathogenesis. In a mouse model, Elocalcitol, a VDR-agonist was shown to reduce the development of endometriotic lesions and recurrence.
Conclusion: A biological plausibility for a role of vitamin D, as an immunomodulator and anti-inflammatory agent, in the pathogenesis and treatment of endometriosis is suggested in this article, but is difficult to illustrate due to sparse evidence from human studies limited primarily to case–control studies. A significant knowledge gap precludes the establishment of a clear cause–effect relationship. The intriguing leads presented herein need to be investigated further with placebo-controlled supplementation trials.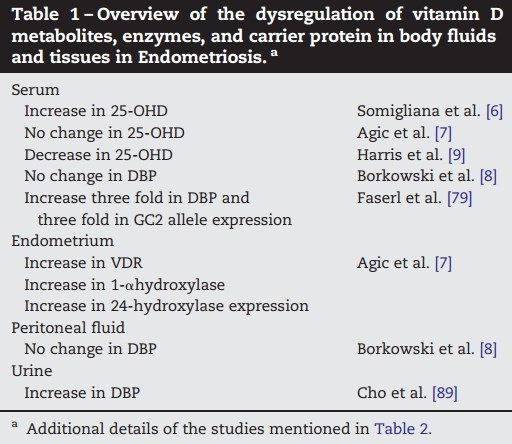 &nbspDownload the PDF from Vitamin D Life
---
(Inverse?) correlation found between size of ovarian endometriomas and Vitamin D - Nov 2016
Ovarian endometriosis and vitamin D serum levels.
Gynecol Endocrinol. 2016 Nov 4:1-4. [Epub ahead of print]
Ciavattini A1, Serri M1, Delli Carpini G1, Morini S1, Clemente N1.
AIM:
The aim of this study was to assess the vitamin D serum level in women with ovarian endometriosis; specifically, a possible correlation between the dimensions of ovarian endometriomas and vitamin D serum levels was evaluated.
MATERIALS AND METHODS:
This was an observational study of childbearing-age women diagnosed with singleton ovarian endometrioma from January 2015 to December 2015. Women diagnosed with multiple ovarian endometriomas or extraovarian endometriosis were excluded.
RESULTS:
Forty-nine women constituted the initial study cohort. In these women, the mean (±SD) 25-OH-D3 serum level was 22.0 (±8.9) ng/ml, and 42 of them (85.7%) were diagnosed with hypovitaminosis D. In the "hypovitaminosis D women", the mean (± SD) diameter of ovarian endometriomas was 40.2 ± 22.6 mm, while in the "normal vitamin D serum level women" it was 26.7 ± 12.1 mm (p = 0.1). However, a significant linear correlation between 25-OH-D3 serum level and the diameter of ovarian endometriomas was found (r = -0.3, p = 0.03).
CONCLUSION:
We found a relatively high rate of women with ovrian endometriosis and hypovitaminosis D. Interestingly, a significant linear correlation between 25-OH-D3 serum levels and the diameter of ovarian endometrioma emerged.
PMID: 27809683 DOI: 10.1080/09513590.2016.1239254 Publisher wants $54 to rent the PDF
---
Endometreous in rats reduced by huge dose of Omega-3 - Dec 2016
Efficacies of vitamin D and omega-3 polyunsaturated fatty acids on experimental endometriosis
Taiwanese Journal of Obstetrics and Gynecology, Volume 55, Issue 6, December 2016, Pages 835–839, http://dx.doi.org/10.1016/j.tjog.2015.06.018
Alpaslan Akyola, , , Memet Şimşeka, Raşit İlhana, Behzat Cana, Melike Baspinara, Hadice Akyolb, H. Fatih Gülc, Ferit Gürsuc, Burçin Kavaka, Mustafa Akınd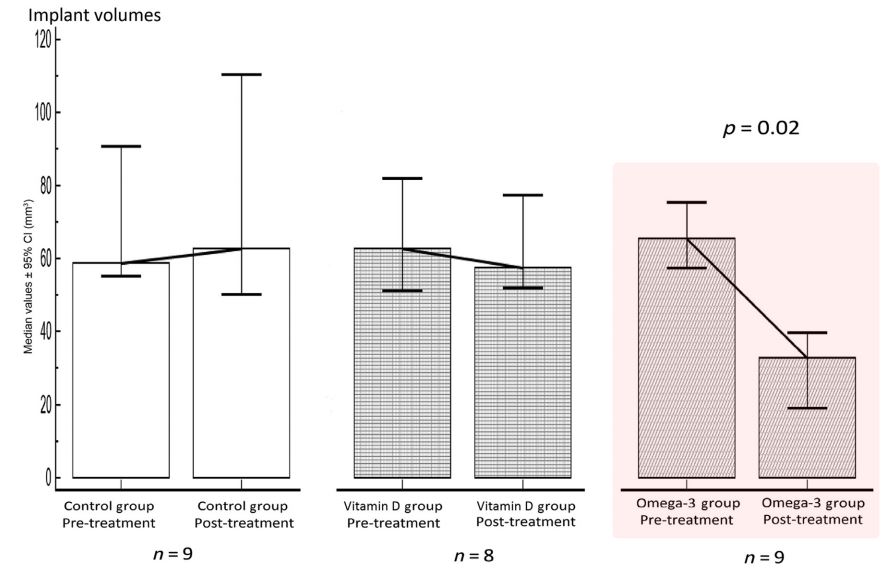 Objective: The aim of this study was to investigate the effects of 1,25-dihydroxyvitamin-D3 (vitamin D) and omega-3 polyunsaturated fatty acids (omega-3 PUFA) on experimentally induced endometriosis in a rat model.
Materials and Methods: A prospective, single-blind, randomized, controlled experimental study was performed on 30 Wistar female rats. Endometriosis was surgically induced by implanting endometrial tissue on the abdominal peritoneum. Four weeks later, a second laparotomy was performed to assess pre-treatment implant volumes and cytokine levels. The rats were randomized into three groups: vitamin D group (42 μg/kg/day), omega-3 PUFA group (450 mg/kg/day), and control group (saline 0.1 mL/rat/day). These treatments were administered for 4 weeks. At the end of treatment, a third laparotomy was performed for the assessment of cytokine levels, implant volumes (post-treatment) and implants were totally excised for histopathologic examination. Pre- and post-treatment volumes, cytokine levels within the groups, as well as stromal and glandular tissues between the groups were compared.
Results: The mean post-treatment volume was statistically significantly reduced in the omega-3 PUFA group (p = 0.02) and the level of the interleukin-6 (IL-6), tumor necrosis factor alpha (TNF-α), vascular endothelial growth factor (VEGF) in the peritoneal fluid were significantly decreased at the end of treatment in the omega-3 PUFA group (p = 0.02, p = 0.03, and p = 0.03, respectively). In the vitamin D group, only IL-6 levels were significantly decreased. In the histopathologic examination, the glandular tissue and stromal tissue scores of the implants were significant lower in the omega-3 PUFA group (p = 0.03 and p = 0.02).
Conclusion: Omega-3 PUFA caused significant regression of endometriotic implants. Vitamin D has not been as effective as omega-3 PUFA on endometriosis.
&nbspDownload the PDF from Vitamin D Life
---
See also Vitamin D Life